Bank Safes LX1200 E Smart Locking System Highest Security From WELKO
Bank Safes LX1200 E Smart Locking System Highest Security From WELKO. Genuine electronic safe + cheapest Hanoi + clear origin + free shipping. long-term warranty + lifetime maintenance safes + many attractive promotions when buying. Free Shipping In Hanoi. Long-term Maintenance. Genuine product. We are always committed to providing our customers with high quality Korean safe products. Please, contact us now for more detailed information through the International Hotline 24/7: 0982770404.
Bank Safe WELKO LX1200 E Pretigious Brand in Vietnam Market
Safe deposit box is not only a safe place for family assets but it is also very important for businesses and banks because it is a place to store many of the bank's important budget, assets, documents, asset protection for a whole team. Therefore, safety is a prerequisite factor to consider when choosing a bank safe. If the bank let such a situation as fire, theft, etc., it will certainly cause many damages, not only physical but also greatly affect the bank's reputation. Therefore, choosing which safe and good safes is always a concern of the bank. In this article, let's learn about a reputable bank Safes brand in Vietnam, from which you will have more information to choose a type of bank safe that suits your criteria.

WELKO manufactures and supplies bank safes, with the quality, prestige and genuine WELKO bank safes, genuine 5-year warranty nationwide. Over the past 20 years of development, WELKO is well received by the market and is the leading and reputable brand in Vietnam in manufacturing and distributing a variety of bank safes.
WELKO Safes fireproof cashier safe is a high-class Korean electronic lock safe designed with a numeric keypad that can change codes up to 1 million different codes. This helps to increase the security ability to the maximum suitable for use in supermarkets and restaurants, increasing the convenience during use but still very safe. Another advantage of this type of lock is that it is very easy to convert codes, fast response speed gives users a very professional feeling. The combination of anti-copy wrench locks also increases the protection, security for safes. Besides, the fire protection feature and high safety lock system are the result of the creation of a hard material that is fire resistant at a certain temperature threshold.
This cash deposit safe is specially designed to isolate in case of a fire. The valuable assets inside will always be guaranteed the best safety.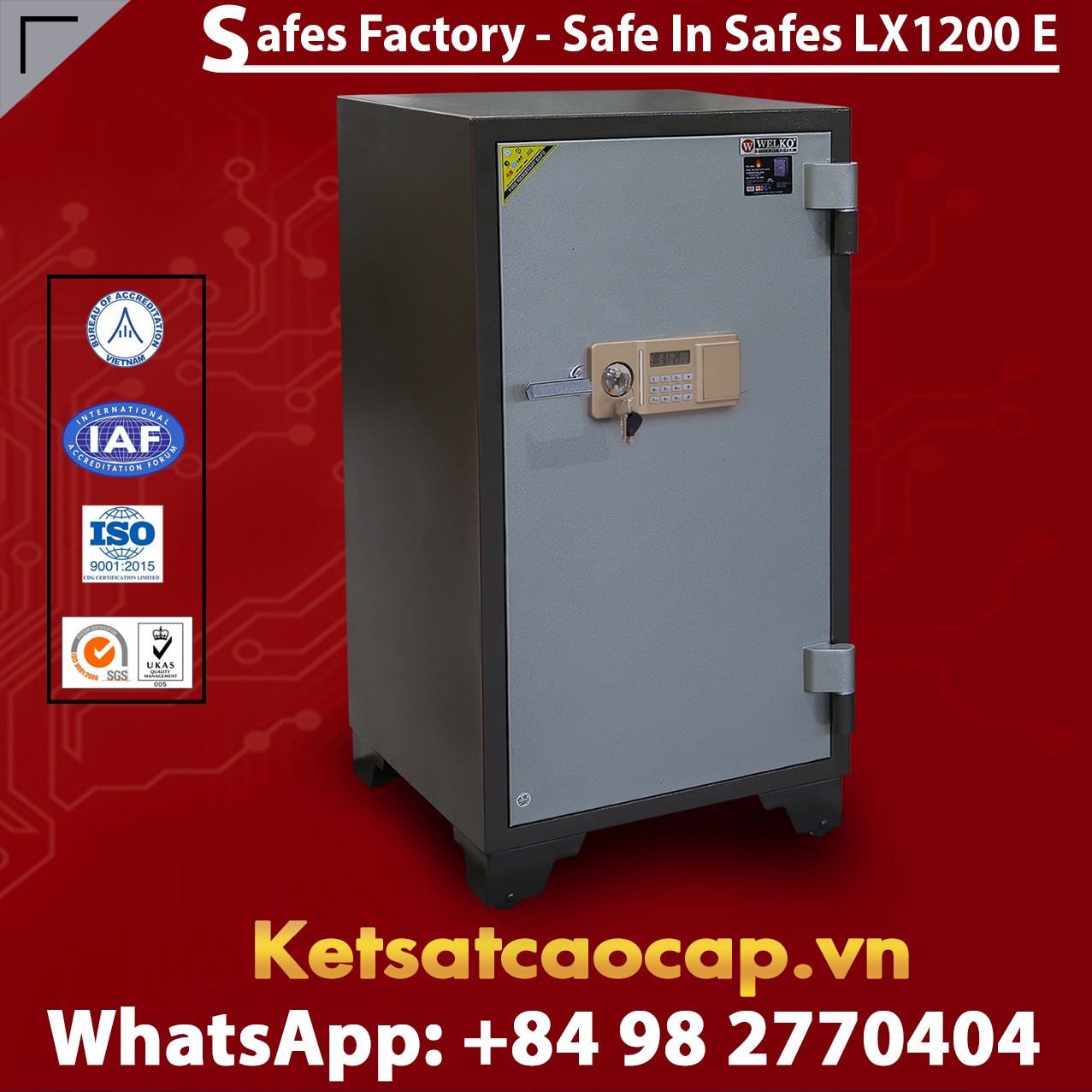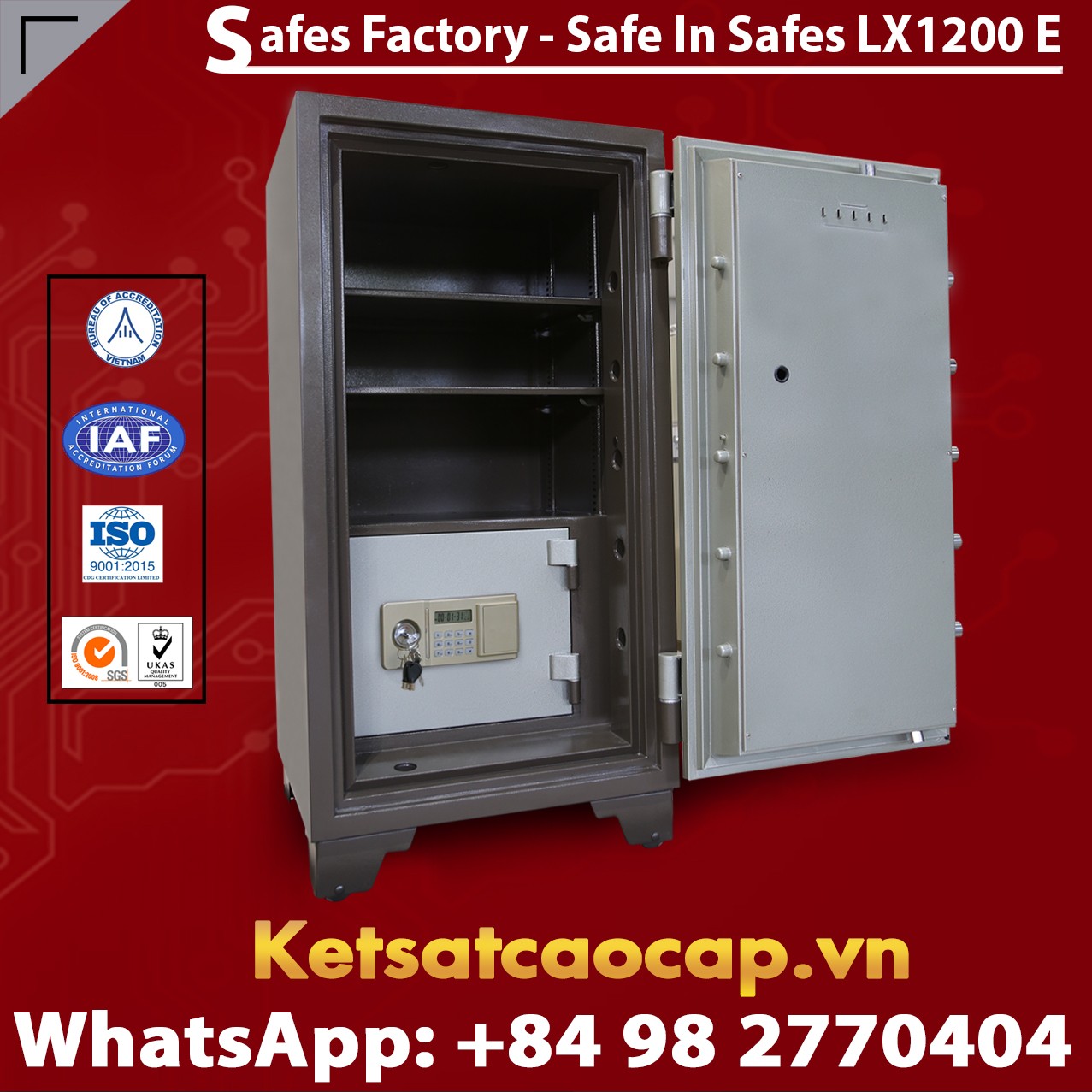 Super Strong Door System
One outstanding point that cannot be ignored when it comes to WELKO cash deposit safes is the safe door system. The door of the safes is designed as stepwells. This special design helps to prevent flames, and the fire protection layer to protect the safety of internal assets in the event of an explosion. The door of the safes is made of high-class thick steel, ensuring safety when subjected to strong impacts from outside. Especially, the two-way bolt system with very special plated bolts are very strong and anti-cutting is very good. The inside of the safe door has 5 key hangers for convenient security of important keys.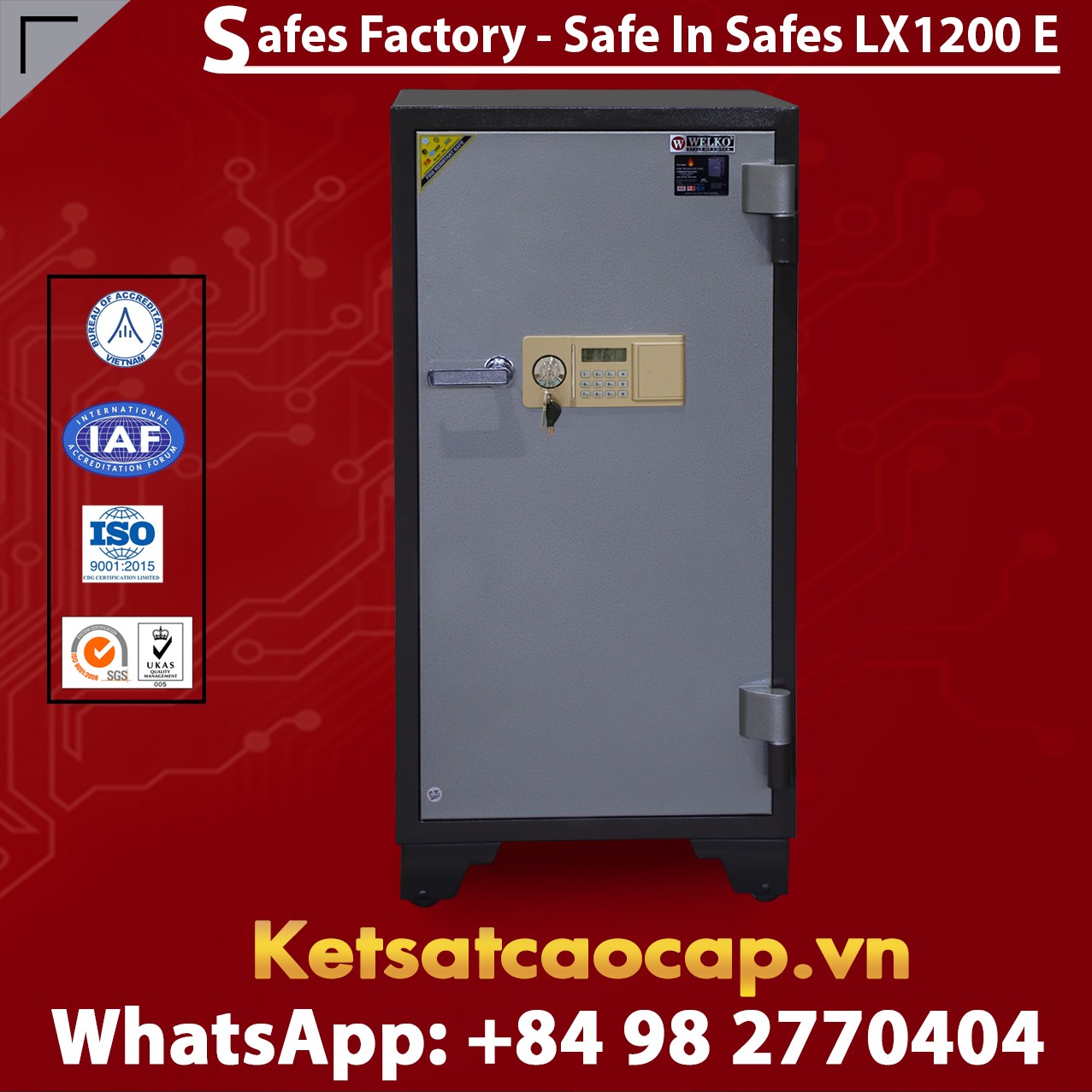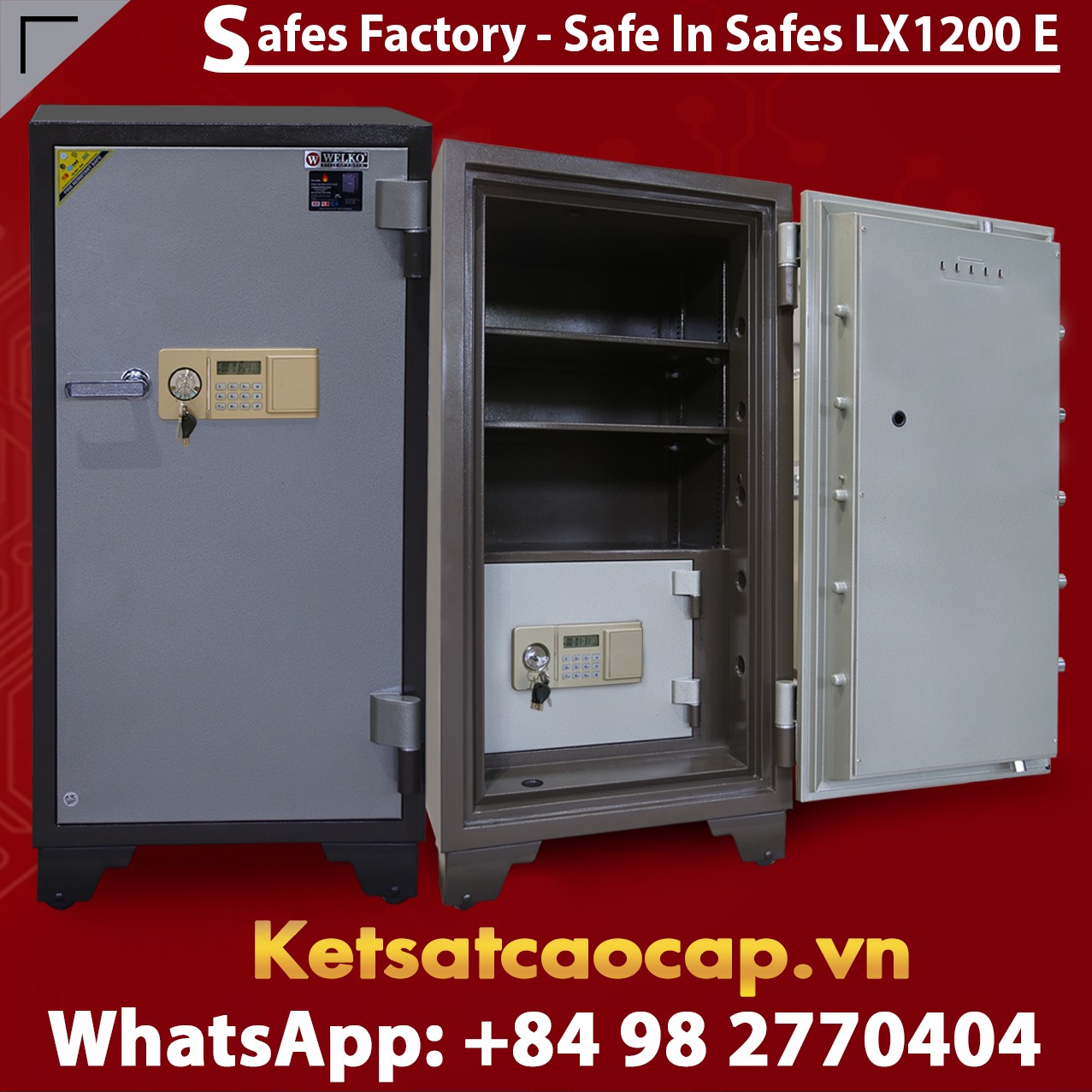 Anti-cutting Bolt System

Deposit Safes is made up of thick steel plate with extremely strong design, the two-sided latching system attaches string to the inside of the tank with certainty against dams, drilling holes, exerting great force from the outside. Secure, secure documents and money. In case of fire or theft, you can rest assured choice and satisfaction when using this kind of safes.
Banking-standard Design

Deposit Safe WELKO Prestigious Brand in the Vietnam Market
WELKO bank safes have a compact design that can be placed under a table, compatible with all banks. Designing a security drawer helps increase the safety of important documents and documents.
In addition, safe is using nano powder coating technology, you will have a safe, shiny silver safe, not fading over time, scratch, rust and oxidation. The lock combined with the easy-to-change mechanical lock with the foreign handle makes it convenient to open the safe.
High Safety

Prestigious WELKO bank safes are applied automatically open / close by password encryption, can change the encryption up to thousands of numbers, the odds of opening the vault encryption safes are 0%, key The lock is designed to prevent copying and foreign handles to create anti-theft capabilities from the surface, convenient for appointing senior officials to hand over the treasury to ensure safety for all banking systems, security. and security is put on top to ensure the absolute safe storage of personal belongings, cash, important papers.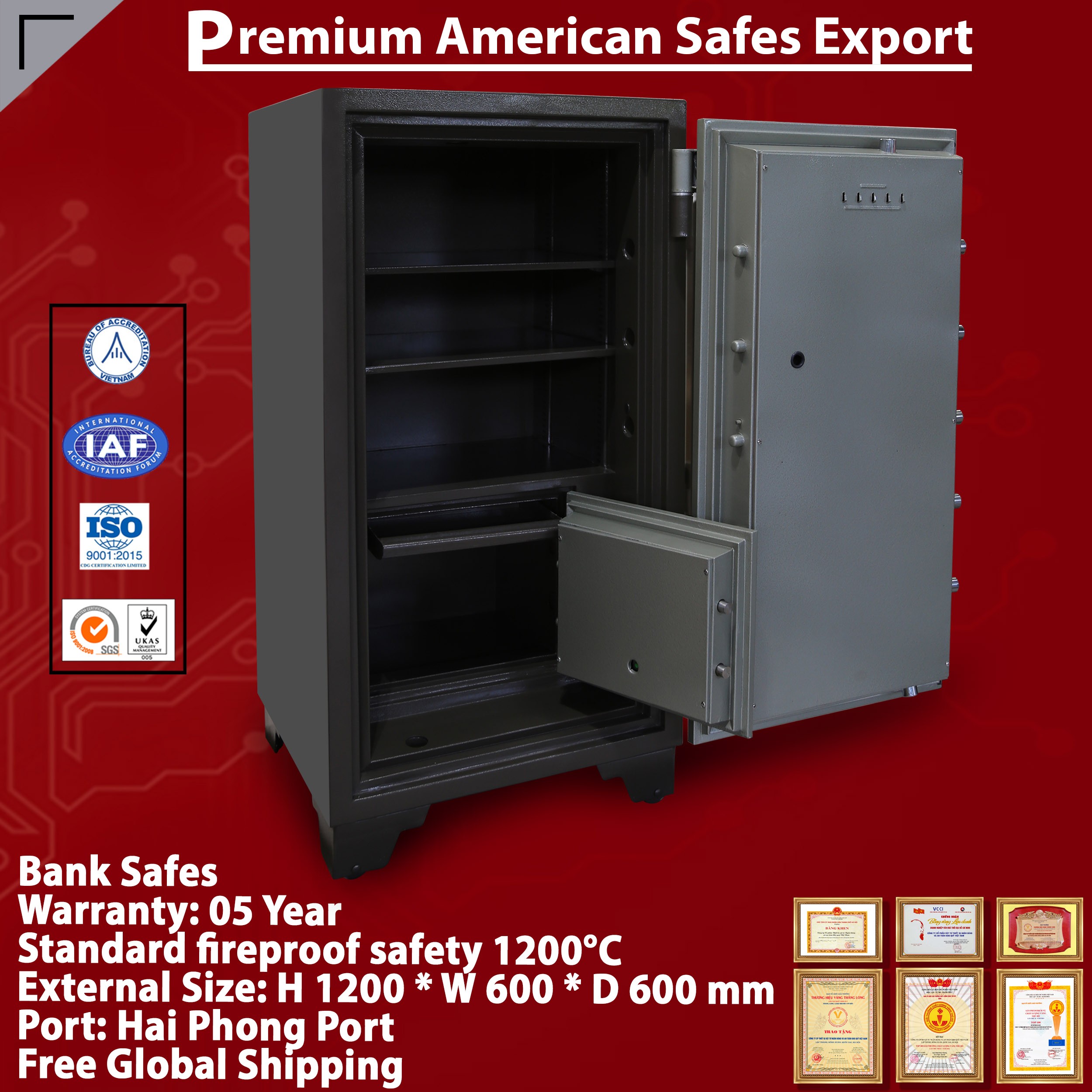 Safe deposit box cashier WELKO safes are arranged 4 solid-steel wheels to create flexibility in moving. The drop trays are all made of glossy steel, the powerful opening and closing ability is designed to last millions of cycles. This is a standard drop-down drawer that is best suited for banks and supermarkets that have large transactions and long-term use.
WELKO cash deposit safes are designed and manufactured to protect property in the safest way. Standard thick fire resistant layer with outstanding fire resistance up to 1,200 ° C for 2 hours.
Safe box LX1200 is designed with a small inner box, this helps increase security and protection for assets stored inside.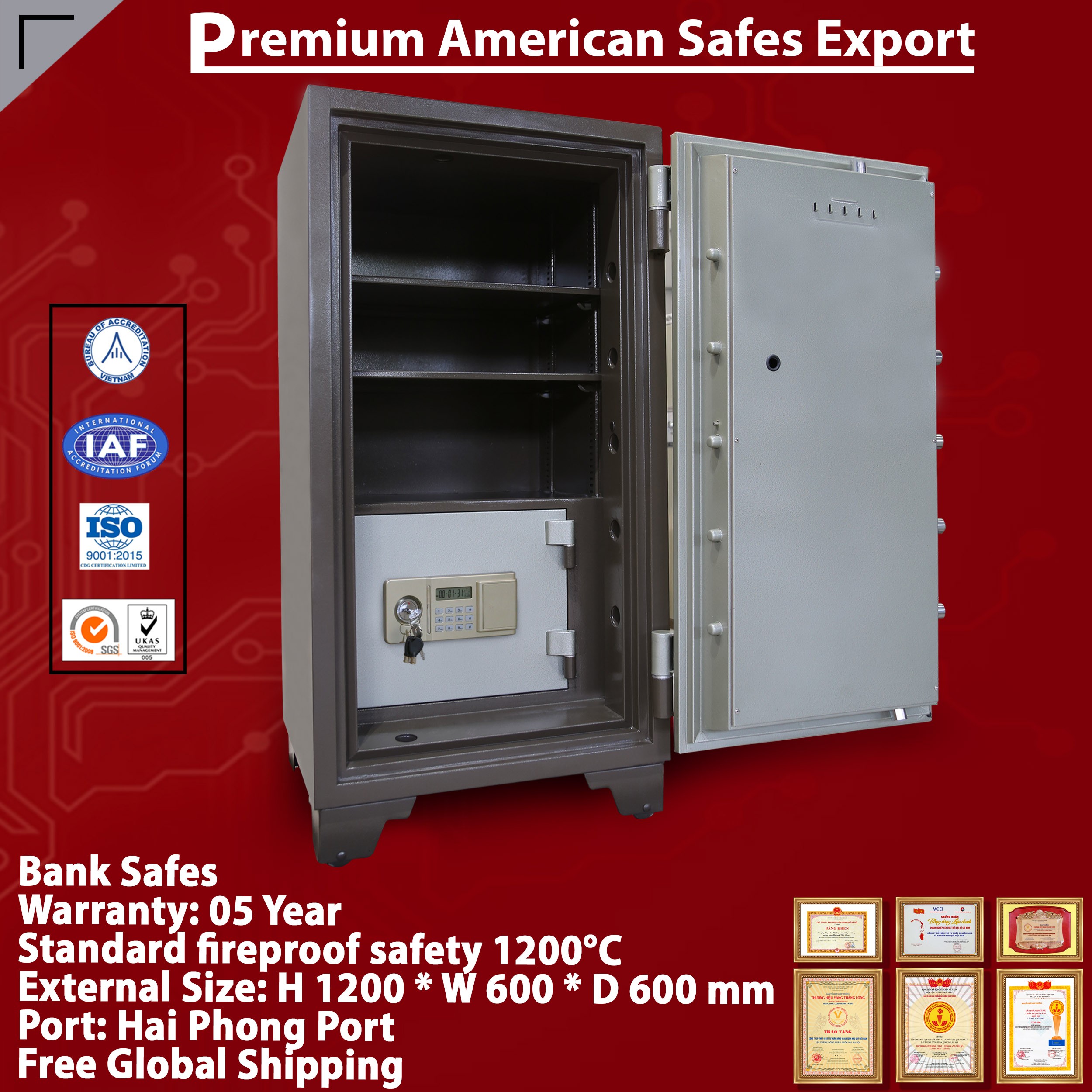 Luxury Color
• WELKO bank fireproof safes use cotton-coating technology, this is one of the modern paint technologies. With elegant embossed colors based on the European standard color system. With this technology, the safe will be covered by evenly painted, thick and glossy paint layers, rust-proof and extremely durable over time. In the primer layer, special paints are used for ships so it has good salinity resistance, suitable for coastal areas.
International Quality Standard ISO 9001: 2015
• Safe Box: Manufactured in accordance with European standards and ISO 9001: 2015 quality system management process issued by SGS Swiss certification organization and ISO 14001: 2015 product environmental certification issued by Australian certification organization. With the key is manufactured in Germany, has a certificate of origin and safety certification according to European standards issued by Germany, the digital lock system (mechanical lock) is manufactured in Taiwan according to Dutch standards.
DIMENTIONS
| | |
| --- | --- |
| Model | Bank Safe WELKO LX1200 E Safe In Safes |
| Weight | 220 ± 10Kg |
| External Size | H 1200 * W 600 * D 600 mm |
| Internal Size | H 830 * W 490 * D 420 mm |
| Feature | Anti-theft |
| Fireproof Ability | 1000 - 1200°C |
| Lock System | Electronic Lock |
| Use For | Banks, agencies, supermarkets, restaurants ... |
| Color | Brown |
| Band Name | WELKO Safes |
| Price | $50 - $300 |
| Zalo/ Whatsapp Number | 098 2770404 |
| Commitment To High Quality Products | New 100% |
| International Hotline 24/7 | 098 2770404 |
I. Technical Specification Bank Safe WELKO LX1200 E Safe In Safes